Our Minecraft Best Seeds post features a bunch of newly found seeds to start your next Minecraft world. Using specific seeds is a great way to get your adventure started in an exciting area. With the random nature of landscape creation in the game, it's nice to guarantee what you are getting yourself into.
The Shortlist
Version 1.18: Since 1.18 is still new, they may still make significant changes to world generation. Some of these key locations might not be accurate, but the general layout and world generation likely won't change too much.

Java Seeds

Civilization Five and Six: 2019763973
The Temple Hat: 150589112544105406
Cliffs of Dover: -132767011038296039

Village Mountain: -5093690396081884077
Mountains and Caves: -607429394

Bedrock Seeds

Lush Jungle Mountain: 708126700

The Goodlands: -78688046
The D&D Dream: 1613969106

Poolside Cavern: 292038360
Beautiful Mountain Ranges: 700682
Java Seeds (1.18)
Civilization Five and Six
Seed: 2019763973
This seed works as both a Java seed and a Bedrock seed. In the Java seed, you spawn within 1000 blocks of five villages, and in the Bedrock version, you spawn within 1000 blocks of six villages! Brooding over the villages and undoubtedly preparing for an attack is a Pillager Outpost. Further out in the opposite direction of the Villages is a huge snowy biome with dozens of Igloos and several other Villages!
Key Locations

Village #1: 192 80
Village #2: -305 272
Village #3: -368 -160
Village #4: -816 -144
Village #5: -944 192
Pillager Outpost: -1216 352
Ice Biome: East (Positive X)
The Temple Hat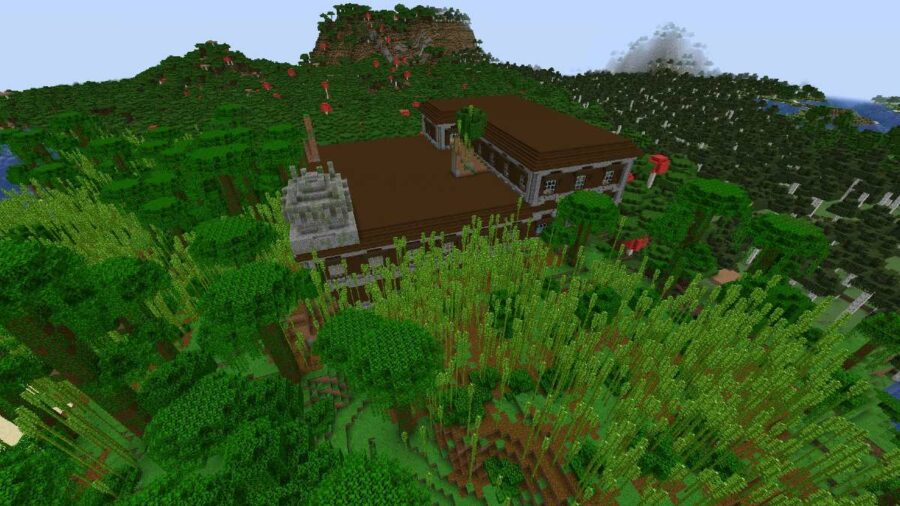 Seed: 150589112544105406
For the first time in our Minecraft seeds lists (and possibly the only time), we bring you a Mansion seed that has a Mansion with a Jungle Temple generated on top of it. Jungle Mansions are rare enough, but to have two of the rarest structures in the game form one on top of the other may be a once-in-a-lifetime opportunity. Instead of busting through the front door to claim the Mansion, you have the option to grab any loot you can in the Jungle Temple on top and use it to help you claim this mega-rare complex!
Cliffs of Dover
Seed: 1613969106
On this seed, you spawn near massive cliffs overlooking a long, winding river. What's more than that, you are just a few blocks away from a village, which you can make your home as you adjust to the beautiful surrounds around you.
Key Locations

Nether Portal: 40 8
Village #1: 344 88
Outpost #1: 40 520
Village #2: 392 -216
Outpost #2: 328 -488
Village Mountain
Seed: 292038360
It may be hard to see, but three villages are surrounding the mountain in the image above. The best part? You spawn on that mountain! This seed is a wonderful option to use if you're just starting 1.18 and want to have a slight advantage while exploring the incredible new world generation. You can either use this as a starting point or reign over your village citizens below and build a giant castle on the mountain.
Key Locations

Spawn: 98 110 -139
Village #1: -15 100 -15
Village #2: -180 70 110
Village #3: -168 71 -150
Mountains and Caves
Seed: -607429394
There are two significant features about the shift to 1.18 world generation: the mountain ranges and the caves. This seed is the perfect seed to explore both of them immediately! You spawn right next to a deep cave that brings you to some of the lowest spots you can reach. Then, you only need to make a short hike to land in a valley between two large, majestic mountains!
Key Locations

Spawn: 15 74 10
Spawn Mountain Peak: 380 178 75
Garden of Eden: 360 195 -365
Village: 275 150 -495
Bedrock Seeds (1.18)
Lush Jungle Mountain
Seed: 708126700
You'll have a very hard time deciding on whether you'd liked to live on the surface or underground on this map seed. You spawn in a large Jungle Biome and near a village and Jungle Temple. However, less than a couple hundred blocks away is the entrance to an expansive Lush Cave that brings just as much plant life and beauty to under the world's surface. Do you think you can choose underground or surface living? Por qué no los dos?
Key Locations

Jungle Temple #1: -152 216
Jungle Temple #2: 568 200
Village #1: -392 156
Village #2: -488 344
Lush Cave: 34 118
The Goodlands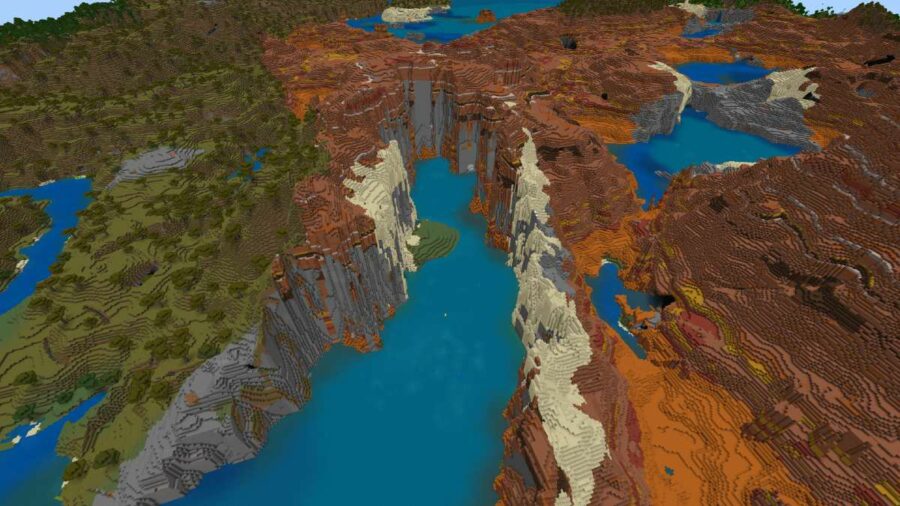 Seed: -78688046
This is our favorite seed so far for Minecraft 1.18. You spawn in what is supposed to be the Badlands, but the size and beauty of it all are anything but bad. In the Badlands, you'll find massive craters filled with water and a Coral Reef in a massive alcove that separates the Badlands from a sizeable Savannah biome.
Key Locations

Village: -360 -360
Abandoned Village: -872 -296
Jungle Temple: 40 696
Stronghold: -812 -844
Nether Portal: 120 -280
The D&D Dream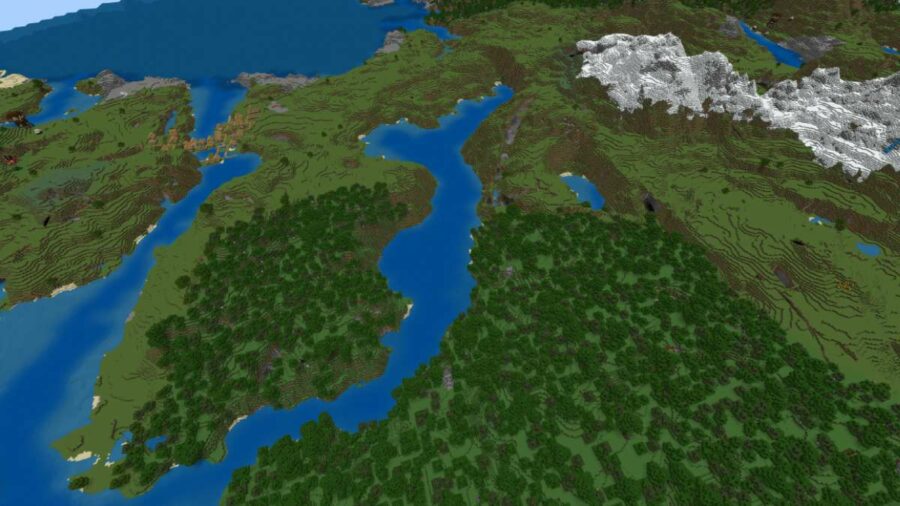 Seed: 1613969106
It might be hard to see, but there is a lot going on in the image preview above. This seed spawns you right in the middle of a Dungeon Masters dream world. You start near a long river that leads to a port city overlooking an ocean. Near this city are two things: an Outpost and a Nether Portal. Across the river is a short mountain range, and in a different direction you'll find a massive forest. This map is certainly an easy one to make an adventure.
Key Locations

Port City: 40 296
Mountain Ranges: -430 200
Outpost #1: 296 392
Outpost #2: -872 376
Nether Portal: 280 328
Poolside Cavern
Seed: 292038360
On the opposite end of the majestic mountains listed in the seed prior, we have the other primary feature of 1.18 world generation: caves. This is one of the best seeds to see what cave generation is about in this new update, and what better way to enjoy it than in a pool? In the image, you can see a small pool overlooking a massive hollowed out chunk of land, which can't possibly be frightening to an adventurer such as yourself.
Key Locations

Spawn: 0 68 0
Poolside Cavern: -505 55 590
Nether Portal: -350 65 170
Beautiful Mountain Ranges (1.18+)
Seed: 700682
This was one of the best views we could find for the new world generation for mountain ranges, and thus the perfect way to begin playing Minecraft 1.18. This seed puts the beauty and versatility of the mountain generation on display, including mountain peaks in multiple environments all close together.
Key Locations

Spawn: 32 78 -288
Nether Portal: 70 73 -308
Abandoned Villaged: -140 71 -295

Mountain Ranges: -315 140 -315
Don't forget: All Bedrock seeds work on all versions of Minecraft except the PC Version, which runs Java. Minecraft for Windows 10 also uses Bedrock Edition!